WHY IT IS IMPORTANT TO FIND GREAT FLIGHT INSTRUCTORS TO BECOME SUCCESSFUL IN YOUR AVIATION CAREER?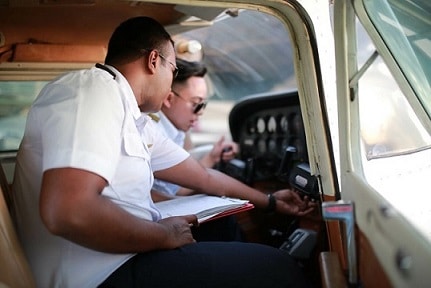 Good Flight Instructors (CFI) are the foundation of any successful career in flight training.
Finding a good flight instructor may involve finding a good flight academy first because most reputed aviation schools produce some of the country 's finest flight instructors.
You might not be able to build up a productive and trustworthy relationship with all the instructors you will have your flight training with. A good CFI is someone you can depend on completely for a great deal of knowledge, guidance, advice, safety assurance and continuous improvement to become an efficient pilot.
I will give you a few great qualities of Flight Instructors here that every student pilot can expect in their flight training:
THEY KNOW EXACTLY WHAT TO EXPECT FROM YOU BEFORE YOU EVEN SIT INSIDE COCKPIT!
A good flight instructor knows what are the mistakes you might do based on your preflight planning and ground school performance. He would always give you a proper preflight and post-flight briefing. He would make sure that you know the lessons very well before you come for flight because flying without having a basic knowledge of your aircraft is a waste of money for student pilots. Flying is a mixture of muscle memory (skill) and Flight setting awareness. You cannot become a great pilot if you miss one of them. A good CFI does not want to waste your money and he does not want to earn money from your flight if he thinks you are not ready to fly. He might cancel your flight often if he feels you are not prepared well for the day.
FLIGHT SAFETY IS THE UTMOST PRIORITY
A good Flight Instructor will always make sure all the safety measures before flights. He shall also ask his student to follows "IMSAFE" checklist which stands for:
Illness (meaning if you are currently sick or have been sick recently?)
Medication (meaning if you are taking any prescribed or non-prescribed medications?)
Stress (meaning if you have been through Psychological or Physiological pressure or anxiety?)
Alcohol (meaning If you have consumed alcohol within 8 hours or if you have hungover?)
Fatigue (meaning If you are exhausted or tired? If you have slept well and ate well?)
Emotion (meaning If you are upset or worried about anything?)
Even having a valid medical certificate, does not ensure the safety of the pilot and the aircraft because of various reasons for human activities and nature. If you have a simple cold, flu or seasonal allergies might affect flight safety and pilot performance to a great extent and a good CFI would not take that risk. He would rather reschedule your flight and might ask you to rest well and see a doctor. There are many prescribed drugs over the counter can be dangerous for pilots in flight environment but when drugs are necessary, consult with your flight instructor and your aviation medical examiner if the medication has long term effect of taking it. Stress is part of everyday life. It can be Physiological (Injury, diet, illness, exercise, etc.), Environmental (noise, crowd, temperature, lighting, etc.), and Psychological (family issues, conflict, financial troubles, etc.). Good CFIs will ensure you haven't gone through any of those before you come for a training flight. They would also ask if you have consumed alcohol within eight hours before operating an aircraft. They want to know if you have experienced a prolonged hunger within the week because It can cause drops in your blood sugar, which causes a significant effect in your mood, energy, and concentration in flight. And last but not least, good CFIs always want to know if anything is upsetting you before the flight or if you are angry, annoyed, sad, anxious or depressed with any family or friends issues.
These are a good Instructor's strategy for self-assessment for a safe and successful flight and he would also evaluate every student pilot with these safety measurements.
UNCOVERING THE BEST VERSION OF YOU
Great CFIs always know what kind of student pilots you are. They would somehow find out:
If you learn visually, physically.
If you like to push yourself out of your comfort zone and that's how learning things become easier for you.
If you are career-oriented, or you prefer to enjoy the flights only as a hobby.
Knowing the answers to these questions, good CFIs will realize your potential, and help you to grow in your aviation career.
Aside from bookish lessons in flying, good CFIs will coach you for a safe attitude towards managing risks, situational awareness, valuing responsibilities, and help you to become an efficient, safe and reliable commercial pilot you want to become.
GOOD CFIs MAKE FRIENDLY ENVIRONMENT IN FLIGHTS AND GROUNDS BREAKING CONFUSIONS
It is very common to find moody and impatient Instructors in a flight training career. Thus, some student pilots lose interest to ask the necessary questions in order to learn better. But good CFIs know that it is never wrong or late to ask questions during any phase of your flight training. Instead, they expect questions from their students who express their desire to learn always. One of the good characteristics of efficient CFIs is always lighting up student's curious mind. They are simply incredible motivators and will help students to overcome their self-doubts and boost their confidence. Not only that but they also want to have your career-ready at the same time reaching their goals with yours.
INSPIRE YOU IN FAVOR YOUR AVIATION CAREER
Learning from great CFIs would be always part of your aviation journey in the long run. Whatever knowledge they have implanted in you during your flight training, will remain long after you graduate from a flight academy. From your very first flight to going for the first solo, first cross-country, all the way getting your commercial pilot License – your CFIs will be teaching you all the things they know to let you thrive in your aviation career goals.
In flying, one of the most important jobs of good CFIs is to get your back always in any situation you experience during your entire flight training program.
MORE THAN WILLING TO ANSWER ANY AND ALL YOUR QUESTIONS
Most highly motivated student pilots have millions of questions as they go through their ground and flight training, good CFIs always answer your questions and are always willing to help you understand anything you find difficult in your training. In case the CFIs would find it difficult to explain a topic, they rather research that and find all other possible ways of explaining using any visual tools or video materials.
ADMITS WHEN THEY DO NOT HAVE THE ANSWER
One of the good quality of CFIs, when they do not have any answers to any topic, they will simply admit it, rather make something up themselves because giving knowledge not right might be dangerous for safe skies.
ALWAYS HAVING A THIRST OF KNOWLEDGE
Most commercial pilots may just keep the knowledge to themselves in order to do perform well in their aviation profession but good instructors always keep themselves updated with most recent aviation-related knowledge and always spread those among new aviators. It is also often said that "Instructors are the most knowledgeable guys in Aviation Industry".
THE WAY THEY TREAT THEIR STUDENTS
One of the most crucial components of an Instructor's behavior is the way they treat their students. Good CFIs always approach their students with respect, encouragement and great enthusiasm. This makes the environment-friendly which helps the students to give better performance and learn effectively. This also builds a great environment for learning which is crucial for quality flight training. No one should be demotivated from flying especially by CFIs because their responsibility is to ensure the students believe in their capability of becoming a safe and efficient pilot.
AUTHOR
Capt. Anwar Parvez
Certified Flight and Ground instructor