Commercial Pilot Training in Nepal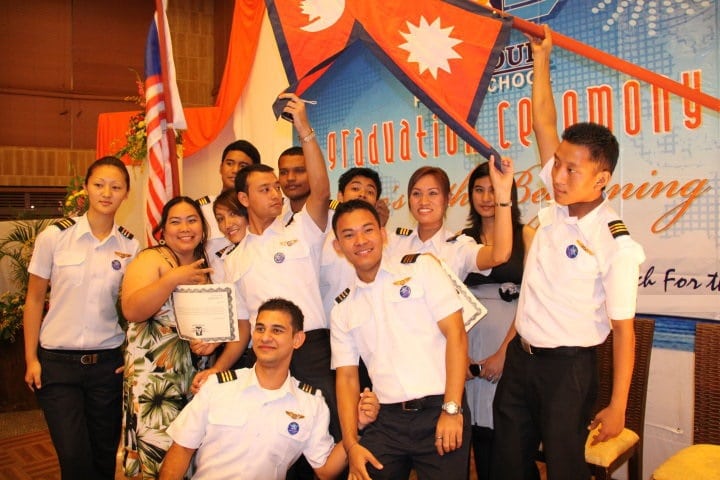 With the growing Aviation industry, so many aviation enthusiasts want to become commercial pilots today in Nepal. But many of them have no idea about pilot training cost in Nepal. The country has 28 million people with 11 airlines with a huge demand for air travel for tourism. It has grown significantly towards Europe, the USA, Australia, the Middle East, Japan, and many other countries.
There is no flight school in Nepal. Due to the increasing demand for new pilots, students need to travel abroad for their commercial pilot training. The Civil Aviation Authority of Nepal (CAAN) has certain requirements for pilots. Most importantly you need to have a 12th-grade academic attainment certificate and Class 1 medical requirements.
Phil Bangladesh receives a lot of inquiries from many aspiring students in Nepal. In this blog, I will discuss the total training cost for Nepali students abroad and the admission procedure overseas to become a commercial airline pilot.
AGE REQUIREMENT
To apply for a commercial pilot training program, students must be 18 years of age. However, you can start your training at the age of 17 and apply for Private Pilot License (PPL). Once you reach 18 years of age, you can apply for Commercial Pilot License (CPL). The retirement age for pilots is 67 years old. This may also vary in airlines depending on your health condition and airline vacancies. Pilots need to be in good health to utilize the maximum age for their retirement.
MEDICAL REQUIREMENTS
To obtain a commercial pilot license in Nepal, students need to pass a medical fitness test. The Civil Aviation Authority-approved doctors conduct the tests. Once you choose a good flight school overseas, I suggest you ask them for their medical requirements. Once after the medical tests then you can proceed to admission. Normally, you have to diagnose for various tests. They are ECG (Heart function test), X-ray (Chest), Pure Tone Audiometry (Hearing Test), Refraction (Details eye test with color blindness check), Hepa B screening, HIV screening, Blood chemistry (Glucose, Creatinine, Cholesterol, etc.), Blood pressure, Nervous system, Urine test, and all other necessary physical tests.
To learn more details about Medical requirements you may read my other blog here! Click Here> MEDICAL REQUIREMENTS TO BECOME COMMERCIAL PILOT
EDUCATIONAL OR ACADEMIC ATTAINMENT
To achieve a commercial pilot license in Nepal, students must have 12th grade with a Science background certificate. If you have already passed the National Education Board +2 science (with Physics and Mathematics), you are good to apply abroad. Students who have bachelor's or Master's degrees are also welcome to apply for pilot training abroad from Nepal.
Students from a business background may also apply abroad. But they have to comply with the conversion process of their foreign Commercial pilot licenses in the CAAN. For more details, please look at this link https://caanepal.gov.np/ or you may directly contact their office.
CHOOSING THE RIGHT AVIATION SCHOOL FOR NEPAL
Once you have decided to apply for a flight academy abroad, you must ensure whether the aviation academy is approved by the Civil aviation authority of Nepal (CAAN). Because there are certain aviation academies all over the world that are declared as Approved Training Organization (ATO) for Nepal. If you have completed your training from a flight school in a foreign country that is not yet an approved aviation training center by CAAN, then you must have to ask the flight school to request and process documents for the approval of CAAN. To approve it as an ATO, CAAN will request certain paperwork from the academies. I suggest you visit the office of CAAN before you decide to take admission to a flight academy abroad.
The Pilot training cost in Nepal depends on many factors. The overseas training program referred to by CAAN can vary widely in different countries at various flight schools. Students from Nepal normally choose the USA, Canada, Australia, South Africa, and the Philippines for their flight training.
Considering the location of the school, the number of students, aircraft type, and other factors, you may be able to choose the right flight school. Find out whether the academy provides reasonable training costs and comply with the minimum training duration suitable for you. Because delaying flight training usually increase the expenses and total training cost. It is also important to check what is the type of aircraft that the flight schools use for training purposes. Don't forget to research if they also have a well-equipped aircraft maintenance facility.
You can research online about the school background rather than asking them every detail. Search for if they have any recent accident or incident issues. Because safety is of the utmost importance when you want to find a good flying school. The training and living cost is inexpensive in the Philippines and South Africa when compared to the USA, CANADA, and Australia. However, some countries may give you an opportunity to work in a part-time program. I personally do not suggest applying for part-time work if you want to study in an aviation school. Because that may affect your flight performance greatly in your commercial training.
If you want to ask me for an overseas flying academy admission process, you will need to request the following:
Passport & Birth Certificate
Academic Certificate
Medical Test certificate
Police Clearance Certificate
You may need to acquire a No Objection Certificate (NOC) from the education ministry. This is required if you didn't graduate from a college or University yet. But that may not be required, you just need to ask the school once you submit all the necessary papers.
PILOT TRAINING COST IN NEPAL
The total cost to become a commercial pilot in Nepal may depend greatly on which country and academy you choose. Some students choose Europe for flight training. The fees in European countries may vary from 75,000 euro up to 85,000 euro (around 10,600,000 to 12,000,000 Nepalese Rupee).
USA and CANADA are also good options for flight training. They have so many flight schools available. But the monthly living cost there is considerably higher than in Asian countries. You may need to spend around $ 50,000 USD on training fees. Let's say, you will need around an additional $ 20,000 USD for your living and food. To sum up, which may cost you a total of at least $ 70,000 USD (around 8,200,000 Nepalese Rupee)
If you have a limited budget of around $ 45,000 USD up to $ 55,000 USD. You may choose the Philippines and South Africa. The flight training and the living cost are reasonably cheaper in these two countries.
There is one more factor that should be considered which is the quality of training in your chosen flight school. It's better to research first where are the graduates of those schools are working. Check on how many instructors are currently teaching. Most importantly what is the type of aircraft the schools are using for training. Finally, the location and airport they are using for training are also should be taken into consideration. These are the factors that can give you an overall idea about the quality and the standard of training of an overseas flight school.
PILOTS SALARY IN NEPAL
Salary ranges may vary from airline to airline and the pilot's grade level and experience. However, commercial pilots receive various incentives and remuneration which can be attractive for new pilots. The freshly graduated applicant receives around 100,000 to 200,000 rupees as first officer (FO) monthly. The salary may go up to 400,000 rupees depending on seniority and expertise in the airline industry.
AUTHOR
Capt. Anwar Parvez
Certified Flight and Ground instructor