WHAT TO STUDY IN FLIGHT TRAINING SCHOOL?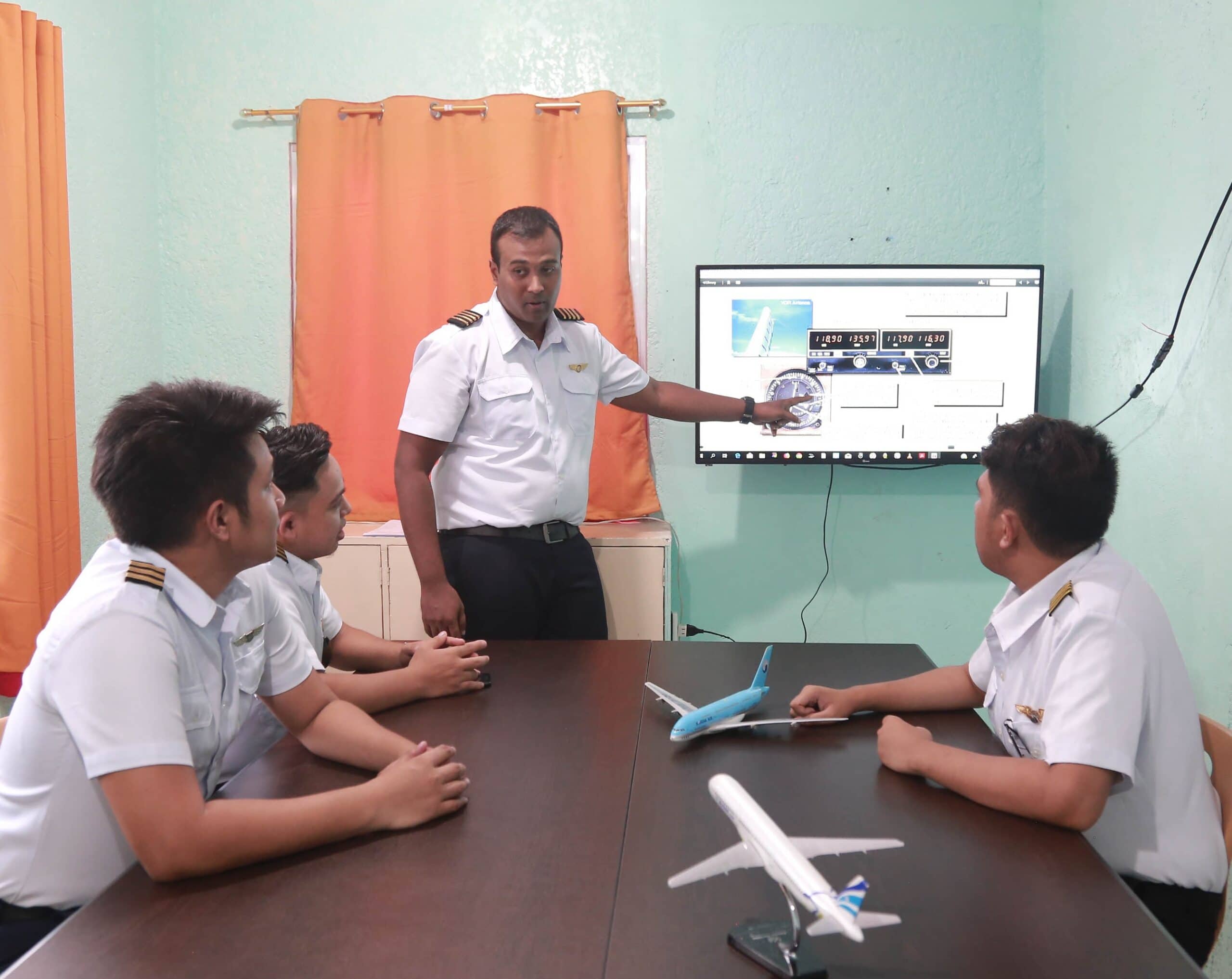 The path to becoming a licensed pilot seems more enticing to many young generations than becoming a licensed doctor, engineer or lawyer. If you aim to be one of them, here are the things you should know before start flight training.
All flight schools follow certain curricula of flight training approved by Country's Civil Aviation Authority which comes with two phases: Ground school training and Actual Flight training. At the beginning of the training phase, Student pilots learn in ground school all basic theoretical aspects of flying in Aviation and they apply those theories with certified flight Instructors (CFI) to fly an actual training aircraft or flight simulator.
What are the subjects taught in the Private and Commercial Pilot Ground Course?
During pilot ground school, certified ground Instructors (CFIs) will teach you the basic and advanced theory of Aviation. The following subjects areas will be discussed in your ground training:
Basic and Advanced Aerodynamics / Principle of flight (POF)
This subject teaches students all basic principles of governing flight which may include aircraft different components and how they interact with moving air, the stability of aircraft during flight, the four forces of flight how the act on the aircraft during turns, straight and level flights, climbs, descends.
Air Law
Aviation law is the branch of law that deals with flight, air travel, and related legal and business matters. Student pilots will learn about International Civil Aviation Organization (ICAO) and their 19 published Annexes (International Aviation Law), Local Civil Aviation Authority (Ex: CAAB, CAAP), and their Aviation law which is responsible to implement aviation policies in the country.
Basic and Advanced Aircraft General Knowledge (AGK)
This is a study about various aircraft engines and their related systems, it also includes understanding and reading flight and engine Instruments properly and their mechanism.
Basic and Advanced Flight Performance and Planning (FPP)
This subject teaches Aircraft Performance in table and graph methods in different stages of flight (takeoff, climb, cruise, and landing). It also teaches about how to calculate for aircraft's Weight and Balance.
Basic and Advanced Meteorology
A study of weather theories and patterns for pilots and how to comprehend the cause and risk of hazardous weather conditions. Student pilots also learn how to read and interpret various Aviation weather reports and forecasts.
Basic and Advanced Navigation
A study of how to navigate safely from different airports by using three basic types of navigation: Pilotage, Dead Reckoning, Radio navigation. Student pilots learn to use navigation maps/charts, navigational instruments (VOR/DME, ADF, ILS, RNAV) and operational flight planning, etc.
Basic and Advanced Operational procedures
This subject teaches about all sorts of operations concerning flights including but not limited to the safety of flight, emergency procedures, basics of airports and aircraft operation, classes of airspaces and their activities.
Basic and Advanced Radiotelephony
This subject is for students to know how radio works and operate within different control zone or airspaces. Student pilots also master how to communicate properly using various aviation words and phrases within the airport facilities through contacting airport traffic controllers and other aircraft on the ground or in flight.
Basic and Advanced Human performance
This subject will teach students Single and Multi-crew Pilot resource management, Aviation Physiology which includes various human factors that affect pilot performance in-flight environment and also teaches the understanding of how to use proper aeronautical decisions making in relation to risk management.
Equipment Qualification Course (EQC)
This subject will discuss all the details about the aircraft you want to fly as Pilot in command. All the information is given in the aircraft's pilot operating handbook (POH). Whether you are flying a Single Engine airplane- Cessna 152, Cessna 172; Multi-Engine airplane- Piper Seneca I, Beechcraft Baron; Business jet- Learjet, Cessna Citation; Commercial jet- Boeing 737, Airbus 320, you need to know all the operating information about your aircraft before you sit in the cockpit.
Tips before you start your training:
Buy a Private pilot manual which has all those subjects discussed in a logical order.
Prepare for each lesson in advance before you start your ground training and make notes of any areas that you do not understand.
Hangout in the airport community which will help you to get to know flight Instructors and students who can offer you valuable advice on flight training.
Look for an organized flight school that has one of the best flight and ground instructors in the country.
Try video-based home study from YouTube and browse through many other aviation-related online free tools such as books, videos, games.
Before ending my discussion in this blog let's watch a video to understand further from this cute student pilot girl!
See you guys in my next blog. Please leave a comment if you have enjoyed!
AUTHOR
Capt. Anwar Parvez
Certified Flight and Ground instructor